USDA Rural Energy for America Program (REAP):
REAP is a competitive grant program funded by USDA Rural Development that provides loan financing and grant funding to agricultural producers and rural small businesses to purchase or install renewable energy systems or make energy efficiency improvements.
Loan guarantees cover up to 75% of total eligible project costs. Applicants must cover the remaining 25%. Available funding for energy efficiency and renewable energy system grants can cover 25% of total eligible costs (applicants will receive grant after the installation).
The maximum grant award for renewable energy systems is $500,000, and the maximum for energy efficiency improvements is $250,000.
Guaranteed loans have a maximum of $25 million.
Renewable energy system projects with a total cost of $200,000 or higher require a feasibility and technical report. Energy efficiency projects require an energy audit or assessment.
Applications are accepted on a rolling basis by each state's USDA Rural Development Office. Applications are ranked through a competitive process and funding is not guaranteed.
There are two application deadlines per year, typically at the end of October and the end of March or April.
The spring deadline for applications will now be April 30, 2018. Contact us to apply or reach:  christie.hooks@oh.usda.gov; randy.monhemius@oh.usda.gov; and/or jennifer.brown@oh.usda.gov.
How Can UpGrade Ohio Help?
UpGrade Ohio provides turn-key USDA REAP grant application development services: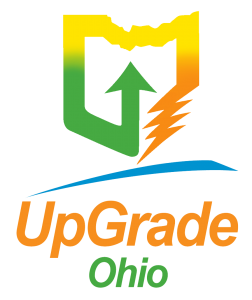 Free renewable energy assessments (solar, geothermal, biogas) with our Renewable Energy Development Assistance (REDA) Program
Development of REAP grant materials, step-by-step technical assistance
Submission of REAP grant on your behalf
UpGrade Ohio connects people with resources to reduce energy use and to access renewable energy solutions, paving the way for a sustainable energy future.
REAP grants and assistance can be used for energy efficiency OR renewable energy projects. There are many in-state and out-of-state resources to improve overall energy efficiency before moving forward on a renewable energy project.
For example, the Purdue University Extension On-Farm Energy Efficiency Audit Program provides energy audits to improve Grain Drying, Irrigation, Dairy Farm Operations, Livestock Confinement Systems, Greenhouse Growing Facilities, and Aquaculture Systems. You can contact us regarding audit costs for this program or other programs available to Ohio farmers and businesses.
For more information about our USDA REAP Grant Writing and REDA Technical Assistance contact us:
Email or fill out the contact form below to get started today.
Solar Electric | Geothermal | Bio-Gas
If you are a small business and agricultural producer located in Athens, Gallia, Hocking, Meigs, Morgan, Perry, Vinton, or Washington county, please complete this short application form to begin the process of scheduling a free site assessment.
Once the application has been submitted, it will be reviewed by program administrators. If your application is approved, you will be contacted in 3-7 business days to schedule an appointment.