Voters of Athens, Ohio approved a carbon fee ballot initiative in the 2018 primary election (May 8th, 2018). In the unofficial results, there were 1,410 votes in favor of the initiative and just 437 against, a landslide victory in our eyes. Together we've put Athens, Ohio in the spotlight by showing fellow Ohioans and the rest of the country that communities are ready to contribute to a thriving clean energy future.
With the passage of the carbon fee, the Athens County local government has committed to adding their own carbon fee to the electricity they use for their mercantile accounts (county-owned buildings and facilities). Unlike the city's program, the county's fee will not affect what private citizens pay for electricity. It will only be applied to the county's own electricity accounts.
The fee would allow Athens County to set aside funding for solar projects on designated county buildings. THAT'S A DOUBLE WIN!
Read The Athens News coverage here: "Athens County will follow city's lead on carbon fee/solar plan" And here: "SOPEC carbon fee – what comes next?"
Moving forward, UpGrade Ohio will be working closely with the Southeast Ohio Public Energy Council (SOPEC) to host public meetings about how, where, and when these carbon fees will be used to install solar in the City of Athens. Follow this page and stay tuned!
UpGrade Ohio's Solar ACCESS program was developed to provide solar electric (PV) energy to low-to-moderate income (LMI) populations as a competitive applicant in the Department of Energy's Solar in Your Community Challenge. The Solar in Your Community Challenge is a $5 million contest to support innovative and replicable community-based solar business models and programs that will bring solar to underserved communities.
Since UpGrade Ohio's inception of the Solar ACCESS program, the team has initiated a 1.3 megawatt (MW) solar PV project at a public school in Athens County, Ohio. The original idea was to connect traditional investors to solar investment packages that fund the deployment of solar on public buildings in southeast Ohio, generating a return to those investors based on the utility savings realized by the public institution receiving the solar system.
After careful consideration, the Solar ACCESS Team decided that the 1.3 MW two-phase solar installation on the Federal Hocking Secondary School would move forward with a traditional PPA financing structure. The installation is slated for construction in August 2018. Learn more about the solar investment strategy here.
Athens citizens vote for carbon fee, creating a community solar program
On Tuesday, May 8, 2018 – primary election day for Ohio, Indiana, West Virginia, and North Carolina – voters in Athens, Ohio approved a carbon fee that will be built into the price of electricity secured for customers in the city's electric aggregation program. The fees collected will be placed into a restricted fund and used for local solar projects on city buildings. The carbon fee is a big milestone, proving that people are willing to pay more for their electricity to directly support clean energy development in their community.
There were 1,410 votes (76%) in favor of the initiative and just 437 against, according to unofficial figures provided Tuesday night by the Athens County Board of Elections.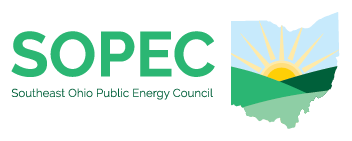 As The Athens Messenger had previously reported, the opt-out carbon fee will only charge customers of the Southeast Ohio Public Energy Council (SOPEC) electric aggregation program in the city .2 (2/10th) cents per kilowatt hour of electricity used.
The average household consumes between 800 and 900 kilowatt hours each month, according to SOPEC, which means members will pay a monthly fee between $1.60 and $1.80.
UpGrade Ohio and SOPEC are currently planning to host public hearings to gain feedback from citizens on which buildings they would like to see solar projects installed. UpGrade Ohio has also drafted a recommendation report on improving the educational outcomes of this community solar model. The hope is to build the foundation for this model to be replicated in other aggregation-friendly communities.
By continuing collaboration with SOPEC, UpGrade Ohio will continue to provide post-election services and support for the development of this carbon fee-based community solar program, especially as a collective effort and replicable program for our bid in the Solar in Your Community Challenge.
Voters were directed to these sites for fact-based ballot information:
www.AthensCommunitySolar.com
The carbon fee recognizes that carbon dioxide emissions cause a negative effect on our economy and highlights that electricity users across the country are not paying the true cost of carbon emissions when using electricity. This fee could also be called a "solar fee" or "solar surcharge" as the funds collected from this fee will be used to install solar PV systems on city-owned and public-serving buildings in Athens, Ohio. Once initiated, this will be a one-of-a-kind citizen-funded community solar program using the tools of electric aggregation, pooling everyone together to make smart energy choices for the future. 
Next steps in community solar for Appalachian Ohio
To create more access to the solar market, the Solar ACCESS team is exploring additional avenues to scale solar development, bridging new sources of capital together with anticipated revenues generated by the carbon fee community solar fund.
The Solar ACCESS team is committed to bringing solar to more people, meeting UpGrade Ohio's mission to drive demand for clean energy in Ohio. Our replication strategy for Solar ACCESS would aim to develop the organizational capacity to provide both technical and project development assistance for dozens of communities across the state of Ohio and in states that have a deregulated electricity market, or otherwise allow community choice aggregation. Solar ACCESS would offer a collection of best practices and services for creating aggregation-based community solar projects and programs.
UpGraders celebrate the first Athens Solar Day at the Jackie O's Taproom and Brewery on Thursday, May 3, 2018. Presenters included UpGrade staff, Mayor Steve Patterson of Athens, members of Third Sun Solar, who installed the solar array at Jackie O's, and Roger Wilkens, founding member of various community clean energy efforts.
Athens Solar Day Proclamation – May 3, 2018
WHEREAS: "Sun Day was designated by President Jimmy Carter on May 3rd, 1978 as a day specifically devoted to advocacy for solar power; and

WHEREAS: Athens recognizes the 40th anniversary "Sun Day" and believes developing an aggressive policy to harness solar and renewable sources of energy is important to Athens residents; and

WHEREAS: Athens and three other Southeast Ohio Public Energy Council member-communities have received a Bronze designation from the national SolSmart program for making it faster, easier, and more affordable for homes and businesses to go solar; and

WHEREAS: City of Athens' voters have a unique opportunity to pass a "carbon emissions fee" for the Athens electric aggregation program on the May 8, 2018 primary election; and

WHEREAS: Clean energy policy creates jobs for the local economy, provides opportunities for local businesses and residents to save on long-term utility costs, and protects public health through investments in low-emission, diverse electric grid resources.

NOW THEREFORE, I, Steve Patterson, Mayor of the City of Athens, Ohio, do hereby proclaim Thursday, May 3, 2018 as the first Athens Solar Day and designate that May 3rd be annually recognized as "Athens Solar Day", inviting all residents to celebrate the city's ongoing support for solar energy.
Bloom for the Solar Boom! Ridge & Hollow Seed Alliance seeds to support UpGrade Ohio with proceeds supporting Solar ACCESS!
Look for these special sunflower seed packs at local retail stores where Ridge & Hollow seeds are available. Ridge & Hollow is a social enterprise of Community Food Initiatives. They believe that sustainable food security starts with regionally adapted, locally saved seed. They are working to strengthen the local food system and celebrate Appalachian heritage by providing economic incentive for seed saving and making locally saved seed more available to the community. UpGrade stands with CFI in support of local food and local clean energy.
Learn more about Ridge & Hollow Seed Alliance and Community Food Initiatives (CFI) here:
https://communityfoodinitiativesorg.presencehost.net/what-we-do/ridge-and-hollow-seed-alliance.html
This is our victory! Athens continues to be a hub of innovation and leadership in the growing shift to clean energy.