Mission: UpGrade Ohio connects people with local resources to reduce energy use and to access renewable energy solutions, paving the way for a sustainable energy transition in southeast Ohio. With collaboration, UpGrade hopes to support a strong mandate to implement clean energy reform.
Vision: UpGrade Ohio will transform the energy economy in Ohio by engaging Appalachian Ohio citizens in energy awareness, resulting in collective action that reduces energy consumption, increases energy efficiency, spurs technological innovation, and improves long-­term economic and environmental sustainability for the region.
UpGrade Ohio began as a special project of the Southeast Ohio Public Energy Council (SOPEC) under the name UpGrade Athens County. The UpGrade movement began as a community coalition. Participants wanted to design a program plan to compete for the Georgetown University Energy Prize (GUEP) in late 2014.
The GUEP was a two-year competition (2015-16) that challenged communities to reduce their energy consumption through innovation and community engagement. Championed by Athens County Commissioner Chris Chmiel and a wide variety of community volunteers and leaders, the GUEP program plan outlined initiatives aimed at engaging the community to reduce energy usage for residential and municipal government energy consumers in the county. Initial seed funding to sustain the project with staff was provided by a local donor and grant funding from the Joyce Foundation.
In November 2015, the organization formally incorporated under the name UpGrade Ohio and focused on community-based energy efficiency and renewable energy initiatives throughout southeast Ohio.
Our Articles of Incorporation were adopted February 2016, outlining the mission of UpGrade Ohio:
UpGrade Ohio is an educational and charitable organization whose mission is to educate, promote, and facilitate connections around local resources for reduced energy use and greater access to renewable energy sources, thereby assisting communities to transition to sustainable energy solutions, improve the quality of life, and lessen burdens of both local governments and individual citizens for economic development and sustainability. UpGrade Ohio fulfills this purpose through educational events, community outreach, private and public partnerships, public discussion groups, program development, activities, and publications.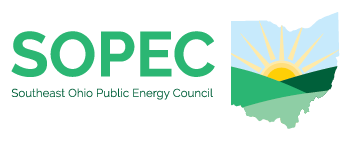 Appalachian Ohio, which has been through a series of energy production booms and busts, is now transitioning to a sustainable, renewable energy economy.  The region is home to two nationally-recognized solar energy providers, university-based energy innovation, governments, organizations, and local champions working collaboratively to implement a new clean energy economy. At the same time, the region has the highest levels of poverty in Ohio. It is imperative that, as the region moves to this new economy, the transition we create is a just one, focused on new employment opportunities for those without jobs and features community asset-building that makes the region more resilient in the long term.
In Athens County, the emerging energy economy uses community choice aggregation as a vehicle for increased energy efficiency and local generation of renewable energy. The Southeast Ohio Public Energy Council (SOPEC) is leading the way by designing a collaborative, community-driven strategy that promotes energy choice while working to keep more dollars spent on utilities circulating in local economies.
UpGrade Ohio has taken over the activities of UpGrade Athens County as a unique social catalyst organization which serves to educate communities about the importance of a clean energy transition in the United States. UpGrade Ohio seeks to collaborate with other regional and statewide organizations, like SOPEC, working to raise awareness about energy efficiency and renewable energy.
UpGrade Ohio has designed a comprehensive strategy to address energy use with the support of more than 45 collaborating agencies, organizations, businesses, and community members.
Email our Executive Director, , for general inquiries. Or, fill out our contact form.
——————————————————————————————————————————————–
The UpGrade Athens County project was a semi-finalist in the
Georgetown University Energy Prize!
This two-year competition challenged communities to reduce their energy consumption through innovation and community engagement. The winning community received a $5 million prize.
UpGrade Athens County designed a GUEP Program Plan to address energy use with the support of more than 20 collaborating groups.
Georgetown University Energy Prize — Learn more at www.guep.org